Rescue Agent Simulation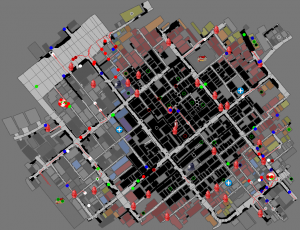 RoboCup Rescue Simulation
---
RoboCup Rescue Simulation is a Large Multi-Agent System which its aim is to manage the disaster when an earthquake happens. RoboCup Rescue's main purpose is to provide emergency decision support by integration of disaster information, prediction and planning. RoboCup Rescue Simulation System is one of the prominent systems for AI and Multi-Agent researches.
Main Objectives
---
Design and development of intelligent agents including FireBrigades, AmbulanceTeams and PoliceForces is the main issue of this league. RoboCup Rescue uses real simulated city maps in order to make the process of disaster management more practical in future. Simulators and Rescue Kernel recently updated in order to become more realistic for the league's purpose. New FireSpread simulator and agents' communication model are the most recent updates in the package.
Research Areas
---
- Large Multi-Agent Systems
- Decision Making Algorithms
- Task Allocation Methods
- Multi-Agent Coordination and Team Formation Methods
- Behavior Modeling
References
---
RoboCup Rescue Simulation is an open source project (https://github.com/roborescue/rcrs-server) which is developed and maintained by the whole teams and individuals attending the International competitions.
More information can be found in:
http://rescuesim.robocup.org/​
Rules
---
RoboCup Rescue Agent Simulation League
IranOpen 2020 Competition Rules and Setup
The participation on the Agent Simulation competition requires the submission of a Team Description Paper (TDP) describing the strategies implemented on the agent's code.
Send your TDPs to this email address: faraji.farshid@gmail.com
Teams Summary
| Name | Leader | Number of members | Affiliation | Country | Status | Payment |
| --- | --- | --- | --- | --- | --- | --- |
| Asterix | Seyedeh Ghazaleh Hezaveh | 3 | AmirKabir University of Technology | Iran | Confirmed | Incomplete |
| IRC R-Sim | ASGHAR MOHAMMADIAN | 6 | دانشگاه آزاد اسلامی ایلخچی | Iran | Confirmed | Incomplete |
| ARAD TEAM | Hossein MohammadiFar | 1 | پیشگامان اطلاعات آراد | Iran | Confirmed | Incomplete |
| Aramis | Sepehr Belat | 2 | - | Iran | Confirmed | Incomplete |
| M.I.C | Mehdi Rad | 3 | Independent Scholar | Canada | Confirmed | Incomplete |
| SOS-CS | hamid ziari | 5 | A.U.T | Iran | Confirmed | Incomplete |
| ApolloRescue | Lingsong Zhuo | 6 | Nanjing University of Posts and Telecommunications | China | Confirmed | Incomplete |
| MRL_RSL | Behrooz Shahrokhzadeh | 4 | QIAU | Iran | Confirmed | Incomplete |
| MRX | Soroush Taheri | 5 | Independent Scholar | Iran | Confirmed | Incomplete |
| QLMX | Sharaf Ali | 1 | Independent | United Arab Emirates | Confirmed | Incomplete |