Soccer 2D Simulation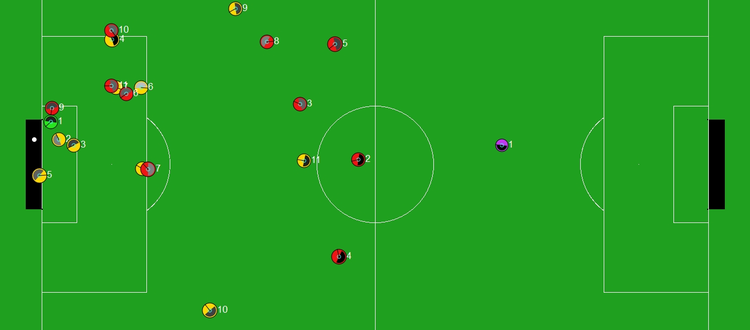 In the 2D Simulation League, two teams of eleven autonomous software programs (called agents) each play soccer in a two-dimensional virtual soccer stadium represented by a central server, called SoccerServer. This server knows everything about the game, i.e. the current position of all players and the ball, the physics and so on. The game further relies on the communication between the server and each agent. On the one hand each player receives relative and noisy input of his virtual sensors (visual, acoustic and physical) and may on the other hand perform some basic commands (like dashing, turning or kicking) in order to influence its environment.
more informations: Soccer Simulation 2D Page
Rules
---
Qualification Materials:
Team Description Paper
Executable binary files compressed in one archive file.
All teams should have significant scientific effort on their bases (if any).
All the teams that have qualified for Robocup 2019, can be registered without uploading any of the above materials.
All the teams should register till 14th of January.
Teams should send their qualification materials via email to soccersim2d@gmail.com, armin.sadreddin@gmail.com before *. The subject of email should be "Qualification Materials - TEAMNAME". Please attach all the files to a single email. After sending your qualification materials, you will receive a confirmation email. If you did not receive it within 72 hours, please contact the technical committee.
Events
---
In addition to the 2D Soccer Simulation competition, we would also have 2 extra parts including technical challenge and presentation. All the relative information would be available soon.
To Iranian teams, we strictly recommend to check rules on the Persian page. Please check this page regularly to be informed about any probable change in Rule.
Do not hesitate to contact with soccersim2d@gmail.com, armin.sadreddin@gmail.com, if you need further information.
Technical Committee
---
Technical Committee Chair:
Eslam Nazemi, Shahid Beheshti University, Iran
Technical Committee Members:
Pooria Kaviani, Sharif University of Technology, Iran
Seyed Emad Mohamadi, University of Tehran, Iran
Ali Safari, Shahid Beheshti University, Iran
Armin Sadreddin, Khaje Nasir Toosi University of Technology, Iran
Teams Summary
| Name | Leader | Number of members | Affiliation | Country | Status | Payment |
| --- | --- | --- | --- | --- | --- | --- |
| Enigma | Mahdi Shemshadi | 3 | Shiraz University of Technology | Iran | Confirmed | Completed |
| MT2020 | Shengbing Chen | 7 | Institute of artificial intelligence and big data, Hefei University, Anhui Province, P.R.China, 230601 | China | Confirmed | Incomplete |
| Nexus2D | mahdi akbari zarkesh | 3 | دانشگاه فردوسی مشهد | Iran | Confirmed | Incomplete |
| Doppler Strikes | Kiarash Kanani | 4 | SRBIAU | Iran | Confirmed | Incomplete |
| KN2C | Maryam Teimouri | 4 | K. N. Toosi University of Technology | Iran | Confirmed | Incomplete |
| RoboCIn | Cristiano Santos de Oliveira? | 8 | Universidade Federal de Pernambuco (UFPE)
 | Brazil | Confirmed | Incomplete |
| CYRUS | Nader Zare | 11 | Atomic Energy High School | Iran | Confirmed | Incomplete |
| Namira | shahryar bahmaee | 1 | دانشگاه شیراز | Iran | Confirmed | Incomplete |
| YuShan2020 | ZeKai Cheng | 6 | Department of Computer Science, AnHui University of Technology,MaAnShan,P.R.China | China | Confirmed | Incomplete |
| RAZI | Morteza Noohpisheh | 8 | پژوهشسرای شیراز | Iran | Confirmed | Incomplete |
| Riton | Masoud Alavi | 3 | Technical University Darmstadt | Germany | Confirmed | Incomplete |
| Big O | Sina Shamsadini | 6 | independent | Iran | Rejected | Incomplete |
| Iris | | 5 | - | Iran | Rejected | Incomplete |
| Alpha-X | Reza Etemadi Idgahi | 1 | University of Texas at Arlington | United States of America | Rejected | Incomplete |
| IAU Central | Mohammad Hadi Mirjalili | 1 | Islamic Azad University Central Tehran Branch | Iran | Rejected | Incomplete |